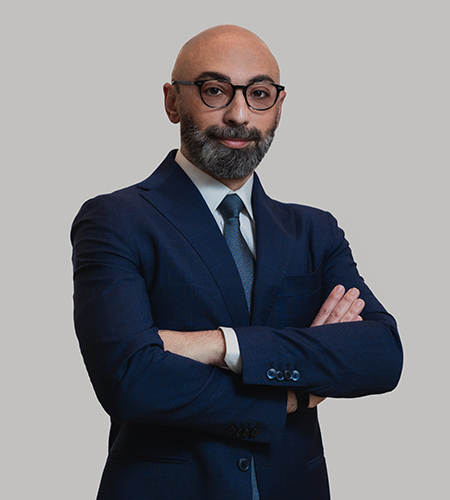 Francesco Cataldo graduated cum laude at the Roma Tre University in 2005. He obtained the license for the legal profession in 2008 and is qualified to practice legal representation (advocacy) before the higher courts, after passing the training course and final exam specifically provided for by Art. 22, paragraph 2, of Law no. 247/2012.
In 2005 he joined Prof. Diego Vaiano's Law Firm, quickly becoming the latter's reference collaborator. After a previous associative experience, from the close collaboration between the two lawyers the Vaiano-Cataldo Law Firm was born in 2017.
Expert in administrative law, Mr. Cataldo works mainly in the fields of Healthcare and Life Sciences, public procurement and, in general, public and private contracts, general health law, concessions of public goods and services, construction and urban planning and trade and production activities, dealing with both counseling and litigation before the Regional Administrative Courts, the Council of State and the ordinary jurisdiction.
Also relying on the support of the other professionals of the Firm, he assists Clients in managing the various phases of the tender procedures, from the study of the relevant deeds to the preparation of any requests for clarification and quotation documents and the drafting of the related contracts (establishment of ATIs [Associazioni temporanee di imprese, "Temporary Association of Companies"], availment and subcontracting), up to their execution. Together with Prof. Vaiano and his aides, Mr. Cataldo also takes care of the preparation and subsequent execution of the relevant training and refresher courses for the Clients of the Firm.
Mr. Cataldo is a connoisseur of and expert in Administrative Law at the "La Tuscia" University of Viterbo, and has been a lecturer in Public, Constitutional and Parliamentary Law at the Faculty of Law of the Roma Tre University.
He frequently intervenes as a speaker at conferences on public procurement and administrative procedural law issues, and is the author of several scientific publications on the subject.
He also carries out education activities in the context of university masters and professional training courses at local authorities and other public administrations, and is a consultant for parliamentary study and work groups.
He is a founding member of the board of AGAmm – Associazione dei giovani amministrativisti ("Association of Young Specialists in Administrative Law").